You can now access the most competitive USPS shipping rates directly through the RevolutionParts Platform. This USPS feature is available in your existing order fulfillment workflow. Simply log into your account to get started.
❗Please note: to take advantage of this feature, you must have a valid payment method on file and automatic billing enabled (learn how here).
Once you have a valid payment method on file and automatic billing enabled, follow these steps to use the RevolutionParts USPS feature:
Log into your account at manage.revolutionparts.com.
Click "Orders" on the top navigation bar.


Select the order you wish to create a shipping label for.


Click the "Complete Order" button

in the upper right corner

or the "Create Shipment" button under the Contents section.
Option 1:

Option 2:


When prompted "How do you want to fulfill this order?" >

select "Shipping Label".

If you would like to add shipping insurance, you may do so. You may also save your custom box or add an additional one.
Once your dimensions are set, you're ready to

unlock the new USPS integration.



Once you enable the new USPS shipping option, the quotes will refresh and you can choose your shipping method.
You will notice that you have multiple options for USPS. If your account is connected with additional shipping carriers (e.g. FedEx) you may see those listed as well.

If you were previously enrolled in Stamps.com, you will see new USPS options alongside "USPS via Stamps.com" options.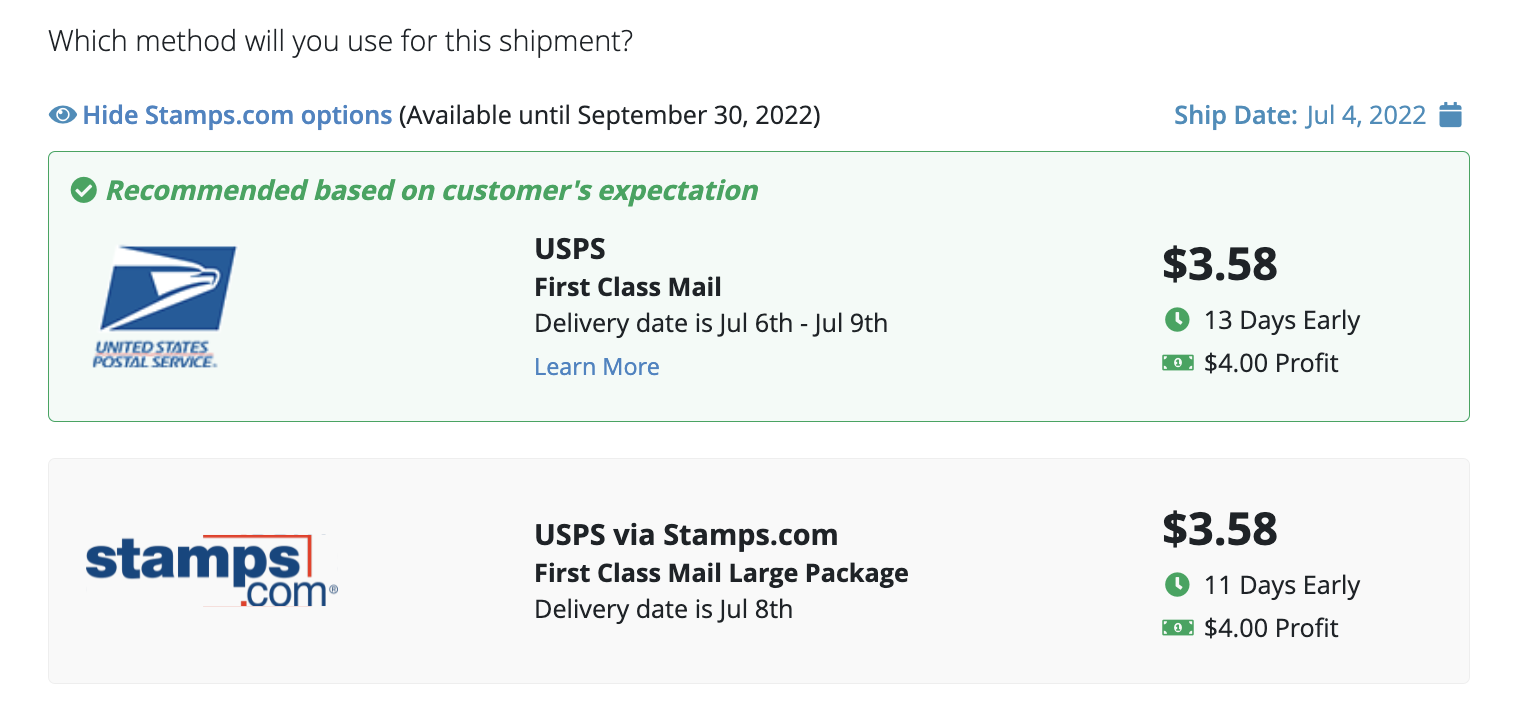 You can easily show/hide the Stamps.com options by selecting the filter above your shipping options.

You will continue to see both options until September 30, 2022—when the integration with Stamps.com will be removed.


❗Please note: If you have a remaining balance on Stamps.com account, we recommend that you utilize the rest of your balance and cancel your Stamps.com account before September 30, 2022.
Once you select your shipping method,

click "Ship & Complete."


This will complete your order and allow you to print your shipping label directly from the RP Platform.
You will also receive a tracking number. We recommend sharing this with your customer so they can track their package.

Voila! Once you've printed the label and sent the tracking information to your customer, all you have to do is box up the item(s) and ship the package.
You will now be billed directly through RevolutionParts for USPS shipping labels. There is no need to maintain an account balance for labels. To simplify your accounting, we will share these charges on your variable invoice with a shipping label reconciliation report.

FAQ
Q: Why is RevolutionParts deprecating Stamps.com?
A: We want to offer a solution that provides competitive rates for our customers and removes the hassle of maintaining an account outside of the RevolutionParts platform. On average, customers can save up to $100 per month by switching to this new USPS shipping option. You'll have access to equal or lower shipping rates compared to Stamps.com and you will no longer need to pay a monthly fee for a Stamps.com account.
Q: What do I need to do at this time?
A: The first step is to activate automatic billing for your account. Once you've done that, then you can opt into our new USPS shipping option to begin purchasing USPS shipping labels.
You will still have access to your Stamps.com account until September 30, 2022. We recommend using your remaining Stamps.com account balance and canceling your Stamps.com account.
Q: How do I schedule a pickup?
A: If your local post office doesn't regularly stop by your location to drop off and pick up mail, then there are a few options that we recommend for scheduling a pickup:
Use the "Schedule Pickup" link found on the USPS Shipment row for your orders. This will take you to the USPS website to Schedule a Pickup.

Register for a USPS account and schedule regular pickups as far into the future as possible. Continue to add pickups to the calendar as more availability is available to you.
Q: What impact will this have on billing?
A: All of the USPS shipping labels that you purchase will be charged to your RevolutionParts account. When the total variable charges on your account exceed your account's billing threshold, then you will receive a variable invoice from RevolutionParts.
When you receive an invoice with USPS shipping label fees, you will find a link to the Shipping Label Reconciliation report that's associated with the charge. You can use this to review your purchases and refunds from the billing period.
Q: How do I cancel my Stamps.com account?
A: There are two options to cancel your Stamps.com account:
Cancel by Phone

You can reach the Stamps.com Customer Care center toll-free at 1-888-434-0055. Monday–Friday, 6 am–6 pm Pacific Time.



When canceling your Stamps.com account by phone, you will receive a cancellation confirmation email from your Stamps.com Customer Care representative. A confirmation number for the call is also available upon request.

Cancel Online

1. Log in to your Stamps.com account

2. Select Manage Account from the My Account drop-down

3. In the Account Settings menu, select Change/Cancel Plan

4. Click on the link to close your Stamps.com account