The Invoices page in the RP platform offers one place for you to view your RevolutionParts invoices. You can also view each invoice and pay any invoices that have an outstanding balance in FreshBooks.
To find out how to navigate to this page, follow these steps:
Log into your account at

manage.revolutionparts.com

.

Click the gear icon in the top right-hand corner of the navigation bar to access your Settings.



Click "Account" on the left-hand navigation bar > click

"Invoices".


You can also view invoices this way:



Supervisors and Account Owners can see a link to 'Invoices' through the dropdown user menu. You can access the user menu by clicking on your name on the upper-right corner of the platform.

Billing and Finance users can easily access invoices from the top navigation bar and through the dropdown user menu.


From here, you can easily check your outstanding balance, view your billing threshold amount, and manage your invoice payments.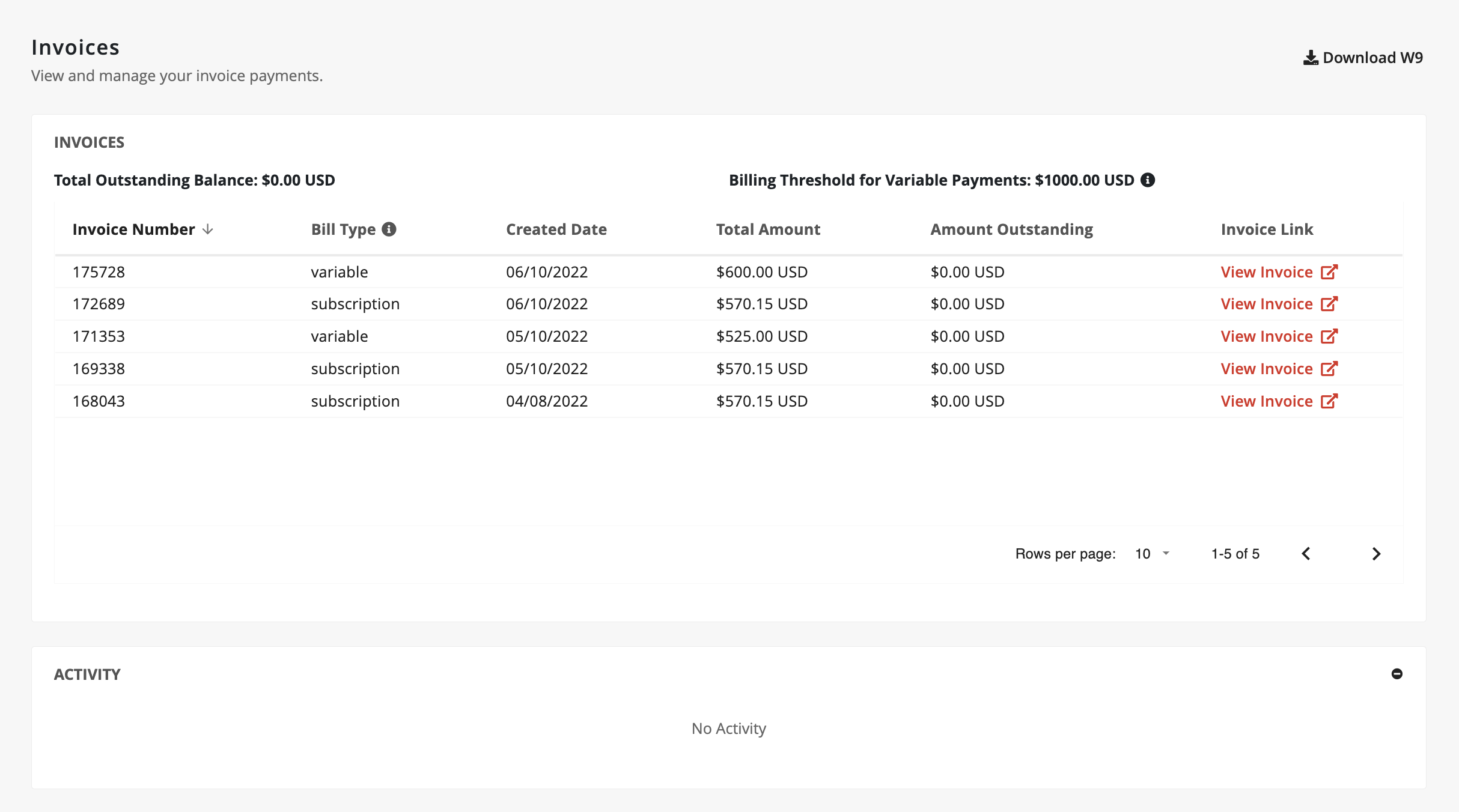 Invoices & Your Billing Threshold
There are two types of invoices that RevolutionParts may issue to you: subscription and variable invoices. The types of charges that appear on these invoices may vary depending upon your subscription and whether you use a service that incurs variable charges.
Subscription Charges
Subscription charges can occur on your regular monthly bill, which includes your subscription, transaction or performance fees, MTC service fees, etc.

You will receive one subscription invoice from RevolutionParts on a monthly basis.
Variable Charges
Variable charges are sent as individual bills based on your Billing Threshold amount. When you reach your billing threshold amount you will receive an invoice for variable charges. If you don't reach your threshold amount by the end of the month, then you will receive a variable invoice at the close of the month. These charges can include setup fees, USPS shipping label fees, Local Delivery fees, taxes owed, etc.

Billing Threshold
Your Billing Threshold will trigger billing whenever the cost of your variable charges exceeds the set amount. You will receive an invoice whenever the total of your variable charges exceeds your account's threshold. Please reach out to RevolutionParts Support if you have further questions.
View & Pay Your Invoices
You can find all of your recent invoices for subscription and variable charges in the "Invoices" table. If you have any unpaid invoices you will see an Outstanding Balance at the top of the table.

You can easily change the number of rows in the Invoices table or select other pages to view past invoices.

Each invoice in the table displays the "Total Amount" and "Amount Outstanding". If the Amount Outstanding is greater than $0.00 in your billing currency, then the invoice has not been paid and will be added to your Outstanding Balance.
You can easily view and pay an invoice in FreshBooks by clicking on the "View Invoice" link.