This article will explain how to set and update the shipping options for your eBay Store.
Log in to your account at manage.revolutionparts.com
Click on the gear icon in the upper right corner of the page to go to your account settings.

In the left-side menu under "Selling Channels," click to expand your eBay store, then click "Shipping."

You'll see the following options, which we'll discuss below: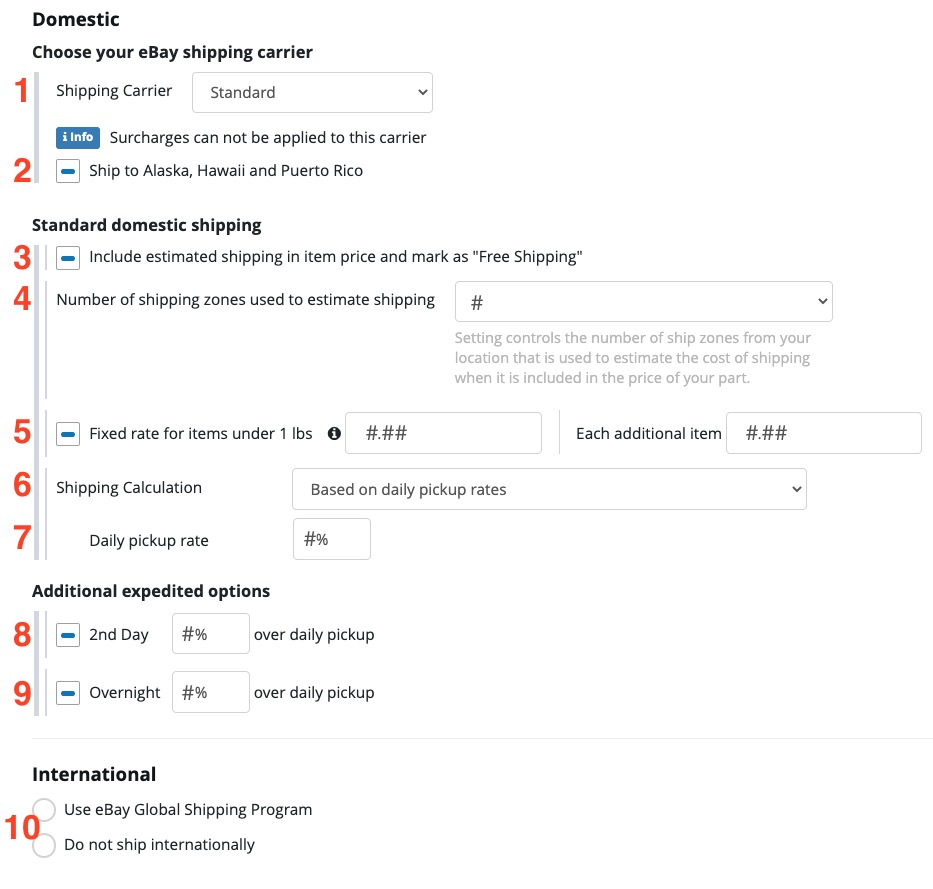 This is where you choose the display name of the shipping carrier on your listings. Your options are UPS, FedEX, and Standard.

PLEASE NOTE that all shipping charges are calculated using UPS, regardless of what you select here. This simply changes the method name that will appear on the eBay listing (and what the buyer will expect).

"Standard" means you can ship using whatever method you'd like, including USPS. If you don't want to be locked down to shipping your orders with one carrier vs another, choose "Standard."

You can decide whether or not to ship to Alaska, Hawaii, and Puerto Rico. Be aware of any possible restrictions you might have on shipping parts outside of the Continental United States and adjust accordingly. If you need to further restrict the shipping, such as not shipping to PO Boxes, or excluding certain countries if you ship internationally, you can find instructions here.

Instead of charging for shipping separately, you can include the shipping calculations in the cost of item. This shows the customer "Free Shipping." It also meets the requirements for Top Seller Status.

If you choose to include a shipping estimate in your item price, you'll need to set how many shipping zones our system should use to calculate that estimate. The higher the number, the higher the shipping estimate will be.



For most dealers not on or near either coast, a setting of 2 or 3 should strike a nice middle-ground between being competitive and being profitable.
For most dealers near a coast, a higher shipping estimate may be appropriate to sufficiently cover shipping across the country.

You can set a fixed shipping rate for all items that weigh less than 1 pound. This is the preferred method for handling small item, such as bolts and gaskets.

You can choose either "Fixed rate shipping" or "Based on daily pickup rates." Fixed rate shipping is where you define a single shipping cost for all items. This may work well if you mostly sell small items, but you will likely lose money per shipment on larger items. Choosing "Based on daily pickup rates" pulls the daily rate from your carrier to ship the item 2 shipping zones. This means that if you are in the middle of the country, you can reach most of the US and stay under the shipping estimate. If you are on one of the coasts, you may lose money on long-distance shipments, but you will make money on closer shipments. This should balance out over time.

Depending on which option you choose in 5, this will either be the fixed shipping amount you would like to charge, or the percentage you would like to charge above the daily pick up rate.

If you choose to ship to Alaska and Hawaii, you can add an additional surcharge here.

If a customer chooses expedited shipping, you have the option to increase that fee by a percentage as well.

If you would like to ship internationally, select the option to use eBay's Global Shipping Program.

General recommendations
We recommend including the cost of shipping into the price of the part, as this makes you eligible for eBay's Fast 'N' Free program, which helps rank your listings higher.