Uploading inventory is one way to add transparency on when a part is estimated to ship based on your preferences. Inventory uploads will only affect parts that are tied to the genuine RevolutionParts parts OEM catalog (aftermarket or custom part numbers are not supported at this time).
Getting Started
You'll need to create a separate .csv file in Microsoft Excel for each and every make for which you want to upload inventory, meaning you'll need a file for Ford, a file for Mopar, a file for Honda, etc. The first row of your .csv file should contain the following:
PART_NUMBER, QTY
You can download an example file by clicking here.
NOTE: Even if you have a bin but are out of a part, please include it in the .csv file with "0" for the quantity. You can exclude items that you do not stock.
With the above values as your column names, put your part numbers in the first column, the quantity you have of each in the second column.
Filename
Your file will need to be saved as a comma separated value (.csv). The name of the file must be exactly as follows: the word, "inventory," followed by a hyphen, then your file's "file ID," then the .csv file extension. See below for an example:
Format: inventory-FILEID.csv
Example: inventory-54545445545SDGSDDGGYH54555.csv
PLEASE NOTE: You will need to have a separate file ID for each individual file. Contact RevolutionParts Support for a file ID for each list you plan to upload.
Configuration
In order to complete the initial setup process, you will need to contact RevolutionParts Support. Send an email to support@revolutionparts.com explaining that you'd like to set up manual inventory upload, and that you would like it enabled on your site. The current messaging for inventory notifications displays as follows:
In-Stock before daily cutoff time
In-Stock after daily cutoff time
In-Stock on the weekend
Special order/Out-of-Stock items
The current messaging for these timeframes are below:
Orders placed within the next ((hours,minutes)) will ship today!
Orders placed today will ship tomorrow!
Orders placed today will ship on Monday!
Will ship in 2-4 business days
Contact RevolutionParts Support if you want to modify you inventory messaging.
NOTE: We will never display the actual inventory numbers for a part. The inventory messages/shipping estimates are designed to add transparency to customers on the estimated ship date, not to reflect or show actual stock values.
Upload Info
We use an FTPS server to host the .csv file you'll be uploading. To upload your file, navigate to the following address in File Explorer for Windows (not Internet Explorer): ftps://anonymous@dropbox.revolutionparts.com/Uploads
For Mac users, you will need to use an FTPS client to upload your inventory (via an FTPS client).
Once you drop your file into the FTPS server, your inventory upload will be processed automatically. You can verify this by looking for your configured inventory messages on a part referenced in your latest upload, but it may take a few minutes for your file to process. Contact RevolutionParts Support if you don't see changes within 30 minutes of uploading your file.
While manual inventory upload is useful, it's also manual. You'll have to upload an updated .csv file every time you plan to update your inventory levels, whether it be when you receive new stock of previously Out-of-Stock items, or when you run out of stock of currently In-Stock items. Keeping up with your inventory is not necessary, but strongly recommended (so that you can be transparent with your buyers).
Uploading Inventory Manually
To manually upload inventory files for your warehouse(s),
Click on Products in the top-menu.

Select Inventory from the left-side menu, then Uploads.

Click the green "+Upload Inventory File" button in the top-right corner.

IMPORTANT: The inventory uploader file types must be in .csv format and list the correct headers in each column so our system can map the data to the correct location. The headers are PARTNUMBER and QUANTITY. This includes inventory files provided by most popular DMS systems; you can upload these files as-is, without needing to reformat them.

NOTE: Download the RevolutionParts Inventory Template

RevolutionParts has a standardized inventory template you can use if this is your first upload or the uploader gives you trouble. To use:

Click the blue link labeled "Download CSV Template". This template can also be downloaded at the bottom of this article.

Open the template in Microsoft Excel (or a similar spreadsheet processor), then fill the template with your inventory information. You must save the file as a .csv before it will work with the system.
Your file must only contain partnumber in column A, quantity in column B, and nothing else.


---

Once you've found your inventory file, click "Select File," then choose it.

Next, set the warehouse and manufacturer associated with the inventory file.

Once everything is configured, click the "Upload" button to load the file into the system.

Uploading Inventory Files via

FTPS
You can upload your inventory to the system by dropping it right into our FTPS server! Configuration is super simple, and our system provides you with the necessary filename and FTPS server URL. Simply use the FTPS client of your choice to upload your files, and if they're named as designated by the Control Panel, they'll automatically apply your inventory. To configure the FTPS upload method,
Click on Products in the top-menu.
Select Inventory from the left-side menu, then Configuration.

After that, click the green "+ FTP Inventory Feed" button on the top-right corner. (We only support FTPS)

In the popup that appears, select the warehouse and manufacturer associated with your file.



Although you may not have an inventory file yet, you'll need to set up and save the configuration before any

FTPS

uploads will work.

IMPORTANT: the name, username & password of your inventory file is how our server will identify your files. The required filename is given to you in the popup. You must name your .csv inventory file to match this filename exactly, otherwise, your uploads won't work. Your filename consists of the word "inventory," a dash, your unique file ID, and a .csv file extension. See an example below:


You can use any FTPS client to connect to our server at the address provided in the popup. For copy/paste reasons, the FTPS server address URL is:
ftps://anonymous@dropbox.revolutionparts.com/Uploads
Click the "Create Inventory Feed" button to save your configuration.

Once the FTPS feed is configured, you can access our server at the address above and drop/upload your inventory file (matching the name provided in the popup). Using this method, you won't have to log into the Control Panel to manually upload inventory.
---
---
Frequently Asked Questions about Inventory Uploads
How long does it take for my inventory to upload?

Inventory files will take time depending on the size of the file. Most will take a few minutes but large files can take up to a few hours to upload inventory.

What happens when I upload a new inventory file?

New inventory files will completely replace existing inventory information. If your inventory file differs to much from the previous file you will not be able to upload inventory. Please contact support@revolutionparts.com and we will help push your upload through.

How many products can I upload in my inventory file?

Inventory files are limited to a maximum of 15,000 rows.
Video Walkthrough: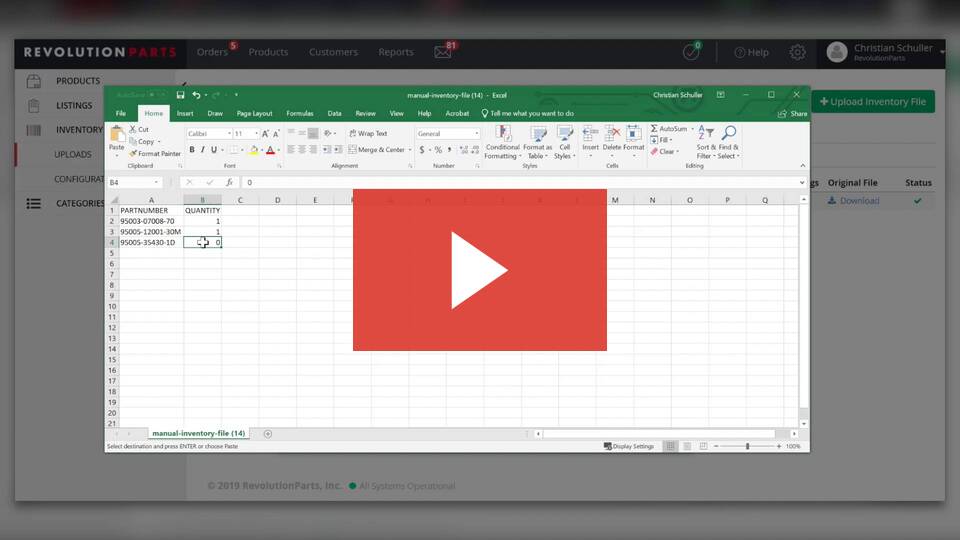 Product Walkthrough- Uploading Inventory – RevolutionParts, Inc