Product Page Settings allow you to edit the information shown on the badges, store and manufacturer description, basic metadata for SEO purposes, and fitment messages on the site. 
In the left-side menu search bar, search for "product" and select "Product Page Settings."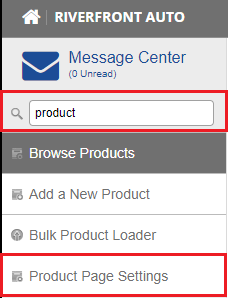 On the Product Page Settings page, you will see 4 tabs.


Badges

Under "Badges" you can edit the badge name or change the badge description that appear on product pages.

By clicking on the "Insert replacement text" link, you can use variables to insert dynamic information into these fields.

Remove any Badge by un-checking the box next to the badge name.


Descriptions

Add or edit your store and manufacturer description on this tab.


SEO Settings

Change your Product page SEO settings here. This changes what Google sees when it indexes your product pages.


Fitment Settings

Here you can change the fitment messaging on the top of the product page. Messaging will vary based on if a car is selected and if the part fits selected vehicle. This does not allow you to edit the fitment data of parts.

When you are finished editing these settings, be sure to click the "Save changes" button.


In Manage, you can edit or rearrange your product page however you'd like using Page Builder!
Log into your Manage dashboard at manage.revolutionparts.com.
Click on the gear in the upper-right corner of the site.

Click on the "Store Settings" section in the left-side menu.

Select your store, then click on "Design", then the "Layouts" section.

Click the pencil icon to the right of the "Product Page" line item.

From here, you can add or edit any content that you'd like using Custom HTML modules.
If you're looking to specifically edit the badge descriptions, click on the "Product Badges" section.


You can turn off any of the badges using the toggle next to the title, and can update any of the descriptions (up to 35 characters in length).

When you're finished updating the badges, click the "Save" button.


When you're finished editing the Product Page layout, don't forget to click the "Save Changes" button.