With Dynamic Catalog Content, you have the power to add content to a given vehicle's make, model, and year pages of the catalog. On these pages, you can provide cross-linking to other parts in the catalog, drive traffic to a page built for a specific vehicle, and most importantly, add custom content to your site to boost SEO.
To set up Dynamic Catalog Content,
Log in to your RevolutionParts account and click the gear in the top-right corner to go to your Account Settings.

In the left-side menu under Selling Channels, click the desired store, then "Marketing," then "Dynamic Content."

The Dynamic Catalog Content page will show all pages currently built. To add a new page, click the "New Dynamic Content" button.

Use the fields on the content builder to add content to a catalog page for a specific vehicle:


First, select a combination of Make, Model, and/or Year. For whatever combination you select, the content defined on the rest of the page will be visible on the catalog page for that vehicle.
Next, define the H1 Title, Meta Title, and Meta Description for the page. This will give Google and other search engines more context on what the page is and how to classify it.
Then, use the Page Content to add content to the catalog page in whatever way you'd like; rich text, images, or any other HTML content.
Finally, choose whether the custom page content should be above or below the catalog content (trim and engine).

When you're satisfied with your content, click the "Save" button in the top-right corner.

That's it! The page will be visible to search engines, and might look something like this: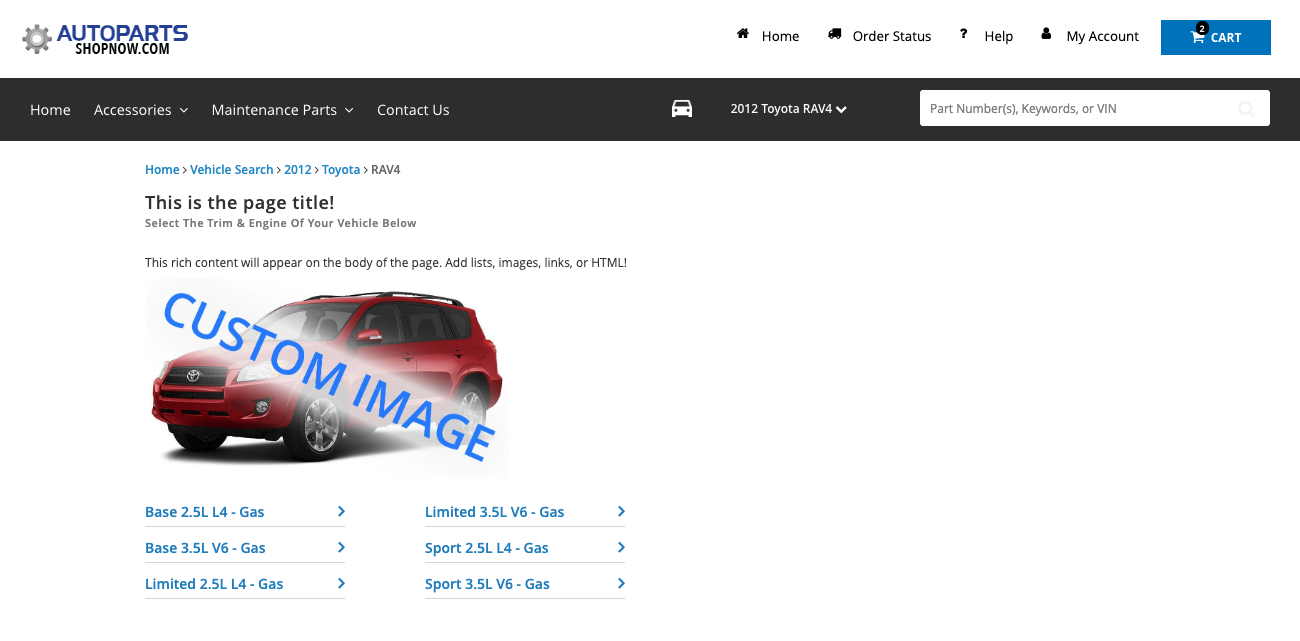 Note: The vehicle's engine and trim levels are not able to be selected during the building process, but are visible on the actual catalog page for that vehicle.
Note: Vehicle catalog page are set to "NOINDEX" by default to avoid taking a hit for duplicate content. Adding Dynamic Catalog Content as described above sets them to "INDEX," meaning Google and other search engines can find the pages and provide your store with the associated SEO boost.
To view the Dynamic Catalog Content yourself, add the following text to the end of your store's domain name:
/v-year-make-model
Example: www.mypartsstore.com/v-year-make-model
Then replace year, make, and model with the relevant settings for your custom content.
Example: www.mypartsstore.com/v-2012-toyota-rav4
---
---