Updating OEM Part Info is very easy. Here are some of the items you can update:
If you choose to use the Bulk Loader, you can download the Product_Template.csv (also listed at the end of the steps). The template contains all fields you can update using the Bulk Loader.

Important: The only required fields for bulk importing are PART NUMBER and BRAND + the field you want to update. The remaining columns can be left blank or removed from the file.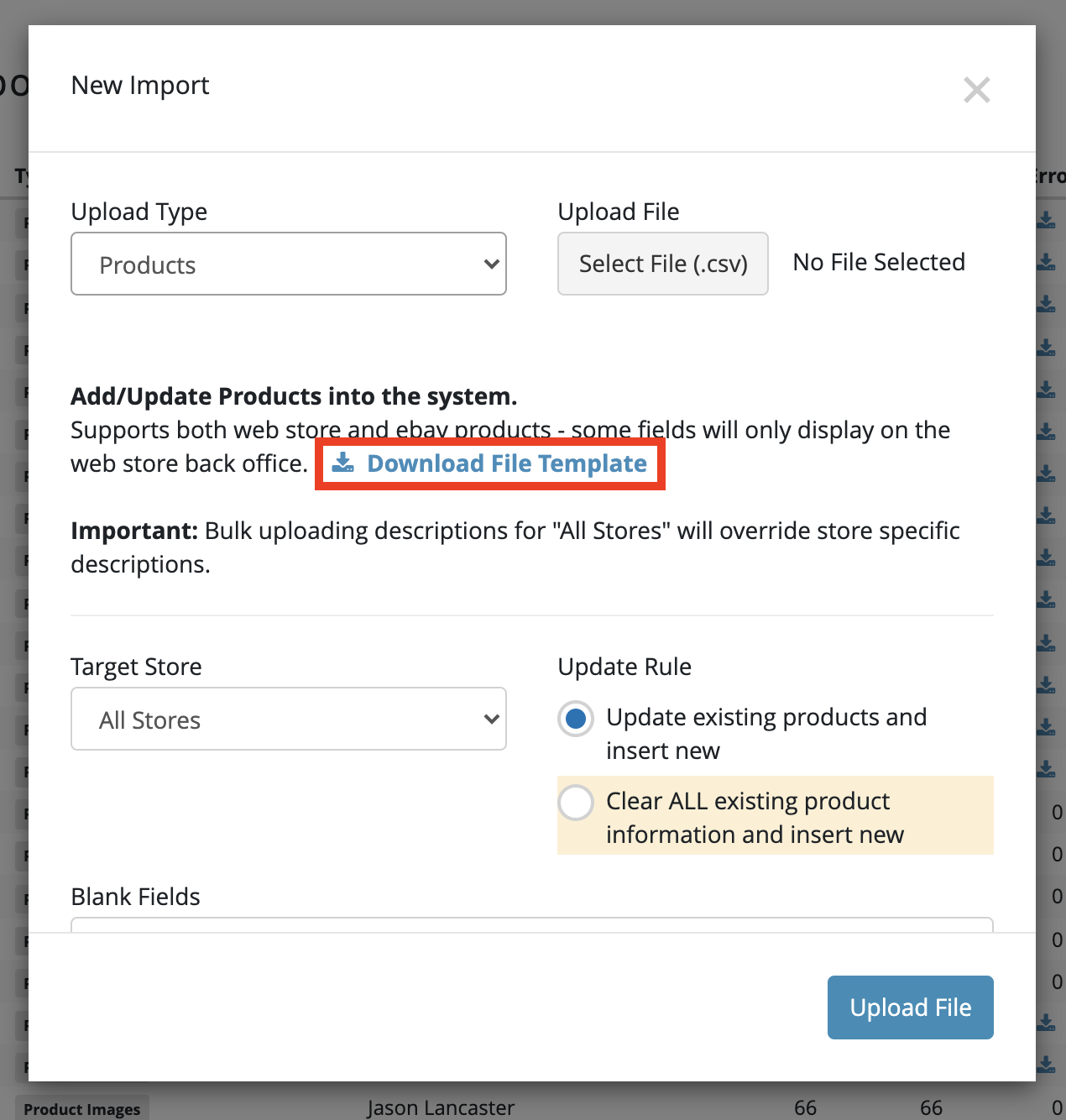 PLEASE NOTE: For data that can be toggled on or off, use TRUE or FALSE in the template. These include fields such as Hazmat, Featured Products, Free Shipping etc.
The data listed below are some items that will vary. We advised entering dimensions to aid in calculating shipping.
Part Number
Description
Weight
Length
Width
Height
IMPORTANT: Text is case sensitive. To update the Product Availability, enter the applicable text exactly as its listed.
Available for Sale
Discontinued
Not for Sale
Call for Price
Call for Availability
On Backorder


To update other Attributes, enter TRUE or FALSE if marking any parts as:
Hazmat
Own Box
Non Returnable
VIN Check Recommended
Hide Fitment
Local Pickup
Featured Product
Free Shipping
Fast Mover
Labor Time Hours
Required MPNs
Part Type
Sold In QTY
Tags

for more information on what these fields do, click here.


---
Once you've updated your file and saved to your pc, you can import it.
Click on the Gear in the upper right



Select Bulk > Imports



Click the green "New Import" button (a box will pop up)



Select Products from the dropdown



Next, find the file you created earlier by clicking the "Select File" button to upload it.



Click "Upload File"

That's it! You've successfully updated part information in the OEM catalog. It will take a few minutes for your upload to process, after which your data will have been loaded.