At RevolutionParts, we believe in doing everything that we can to help minimize fraudulent orders. In addition to providing a Fraud Score on all orders, we also have a Verify Card feature on orders with international shipping addresses.
This feature places a small authorization on the customer's credit card, and you can then ask the buyer how much was authorized to confirm ownership of the credit card. The customer might need to call their bank/credit card issuer to find this amount, as not all authorizations show up online. However, if the buyer is unable to confirm the authorization amount for you, it may indicate to you that the order might be fraudulent.
Using the Verify Card Feature
1) In the Payment section of the order, you will see a "Verify Card" link next to their payment method.
 

2) When you click on this link, you will have an option of what amount to verify on the card. This is automatically populated with an amount that is less than $5, but you can change it to any amount you wish (under $5).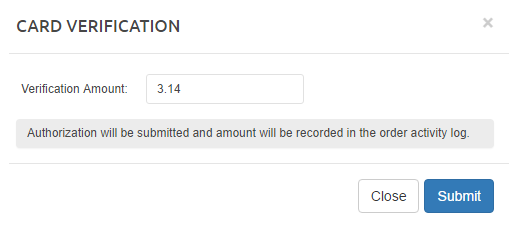 3) This amount will show up as a separate authorization on the order (it will also appear in the activity log of the Order Page).

4) You would then call the customer or send the customer an email explaining why you are requesting an authorization and how to verify the amount. Do not share the authorization amount with your buyer, as that defeats the purpose of the security check.  Stores that use this tool extensively are advised to build a Canned Message that explains the situation in order to make this process quicker.
By default, this feature only shows up for orders with a billing or shipping address that is outside of the United States and it's protectorates. You may request that our Support Team enable this feature for all orders by contacting us at support@revolutionparts.com or 480-779-7278.
Disclosure
This tool is provided to assist you in making a decision only. The decision to process and ship an order is ultimately yours. Use of this tool is covered under the Limitation of Liability Disclosure contained in Section 17 of the RevolutionParts Terms and Conditions.